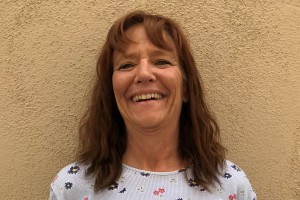 I am very new to Unitarian Universalism, but after having become a member of Valley Unitarian Universalist Congregation a little over two years ago, I have come to the conclusion that I have always been a UU, but just didn't know it. I was born in Salt Lake City, Utah, but my family and I moved to the phoenix area when I was 6 years old. I was raised Episcopalian in Paradise Valley, graduated from Phoenix Country Day School and graduated from Arizona State with a degree in Microbiology with an emphasis in Recombinant DNA Technology.
After graduation and deciding that I did not want to spend my life in a lab, I started my own business as a Horse Show Photographer. After a time, I discovered that if I was working at the horse shows, I could not ride in them, and my true passion was competing in competitive show jumping…So I therefore became a Real Estate Agent. I was very successful in that field becoming a multi-million dollar producer, however after about 8 years an opportunity arose for me to purchase a farm in Scottsdale and decided to make the hobby that was my true passion into my business. Early on in my competition days I sat on the Board of Trustees of the Arizona Hunter/Jumper Association which is the local governing body of equestrian sports.
After about 8 years in the horse business I found myself in a difficult financial position due to forces outside of my control and was forced to sell the farm and all of my horses. At that point in my career, I decided that in order to bounce back I needed to go back to school. I have always been fascinated with the law, so I went to Paralegal School, graduated with a 4.0 average, institutional and national honors and began down a new, fascinating and rewarding career as a Patent Consultant. I have been working in this capacity for 7 years now and love it.
Four and a half years ago, I was fortunate to meet a VUU congregant who introduced me to UUism and after attending several months of services and other special events, I decided that VUU was definitely my home. Not only did the principles speak to me, but I was welcomed to the congregation with open arms and now consider all of our congregation members my newfound extended family.
Since joining the congregation in May of 2018, I have been active in supporting Paz de Cristo Homeless Shelter, I have participated in the help for the Asylum Seekers. I ended up joining the tech team shortly after joining the congregation and now am responsible for coordinating and scheduling the folks who work behind the scenes to produce our services. I now serve as your Financial Analyst/Treasurer on the board, work with and for the tech team, am very passionate and involved in activism activities.
I now live in Chandler and look forward to continuing to get to know all of my extended family both now existing and those to come in the future.