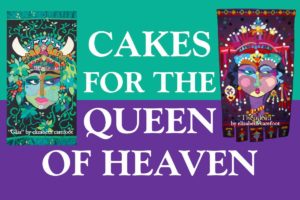 CAKES FOR THE QUEEN OF HEAVEN                                          PART 2
(Whether you have taken the first session of "Cakes" or not you are welcome to register.)
1st & 3rd Sundays, beginning Oct 6th, 12 pm in Board room, office building of education complex. Class will be "closed" to new participants after the 2nd class (Oct 20)
Contact Lisa Bonine ([email protected]) to pre-register.
In these sessions of "Cakes For The Queen Of Heaven" we will continue our journey into the past to reclaim the stories of powerful women to be found in ancient Judaism and in early Christianity. We will also look at the global silencing and brutalization of women that accompanied the rise of patriarchal religion and society. Finally we will celebrate the exciting new world-view and theology that has emerged in our time, and explore the personal and social changes that may be suggested by that new world-view and theology.
---
7th Principle Discussions        4th Sundays, 9 a.m. in the board room.
The IPCC, Intergovernmental Panel on Climate Change, has just issued a report, "Climate Change and Land".  Over 25% of Green House Gas Emissions come from food systems.  Less meat would mean Less Heat.  A transition to a vegan diet would significantly reduce emissions.  We could all move in this direction. Research shows that many chronic health conditions are improved or eliminated by reducing the animal foods in our diet.  Dr. Dean Ornish's book, "UnDo It", summarizes this work.
Come tell us your ideas for other ways to meet the Climate Crisis.   Help us come together and make a difference.
---
The Page Turners Book Club (offsite, evening meeting) 
The Page Turners Book Club is open to all members, visitors, and friends of VUU who enjoy reading and discussing a variety of books.
For the meeting address or questions, please contact Johnnie at 480-839-0544,  Amy at 480-518-0110, or email:  [email protected].
The Dalai Lama and Friends Workshop
Facilitated by David Black and Melanie Cloonan-Schulte
An opportunity to learn from the Dalai Lama and other modern Buddhist teachers is offered each Sunday. The program is offered in 2 parts:
*8:30 – 9 am, room 5: meditation
*9 – 10 am, room 5: Group discussion of presentations on topics such as how to be more compassionate, cultivating our mind, dealing with anger, or how to meditate.
Questions?  Just email [email protected]
Every Sunday – child care is available at 8:30 am in the room #6
---
A Room with A VUU, in the library (11:45 am)
Session Dates: Sept 22 & 29, Oct 20 & 27, Nov 17 & 24, Dec 8 & 15, Jan 19 & 26, Feb 16 & 23
**2 spaces available – class will close to newcomers after the 2nd session**
Contact Mary to pre-register [email protected]
We will use contemporary Latinx artworks as inspiration for examining art in our own lives and how it reflects important principles of Unitarian Universalism.
Each month will focus on a value-based theme. Each participant will receive a full-color catalog of Latinx artworks and educational guidelines.
---
Collect stories, not stuff Exploring Minimalism as a spiritual practice
Led by DeeAnne McClenahan, 2nd Sundays, 9 a.m. in the board room.
We will explore the many facets of minimalism, and how culling our physical worlds allows us to clear out and make room for what is important in our lives.  How do we learn to "love people, use things"?  Minimalism explores not just how much stuff we have, but the underlying why we have that stuff, and how parting with it allows more time, more money, and greater connection to the people and the causes that fulfill us.  We will take small steps together and individually, sharing the experiences and feelings they evoke.
What Moves US: Unitarian Universalist Theology, 1 Sunday a month
Led by the Rev. Dr. Andy Burnette
Explores life experiences of historic and contemporary Unitarian Universalist theologians, inviting consideration of theological questions that moved each of them.
Discussions will include: George de Benneville, Charles Chauncy, Hosea Ballou, William Ellery Channing, Margaret Fuller, Sophia Lyon Fahs, James Luther Adams, Forrest Church, William F. Schulz, & Thandeka.