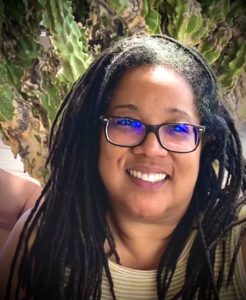 I have been in Arizona for almost 10 years and have been a member of VUU for just about all of that time. I have moved around quite a bit in my life, including a bit in Central and South America. Moving around also described my faith search. I was introduced to UU in Washington, DC and when I moved I was so excited to find VUU! VUU is an important part of my life. VUU is definitely my faith home. The warmth of this congregation is a source of joy and support for me.
I came to Arizona for a job at Arizona State University (ASU). I am a Speech-Language Pathologist and Clinical Professor. The main focus of my work is serving individuals and families with autism spectrum disorder. I also work with bilingual (English-Spanish) children. I have worked at ASU, Purdue University and the University of Maryland.
Creating 'stuff' is how I spend a lot of my time outside of work. My hobbies center around creating with yarn and fiber. I knit, spin fiber into yarn and am interested in weaving. I paint and craft with paper, colored pencils and really just about anything. I also enjoy planting and gardening, listening to world music, reading for fun and (sometimes) cooking.
My family that I live with in Arizona is a dog named Twix and a cat named Topaz. My parents and sister live in Missouri and I have a brother in North Dakota. We visit each other as much as we can…I love road trips!