In the Meantime,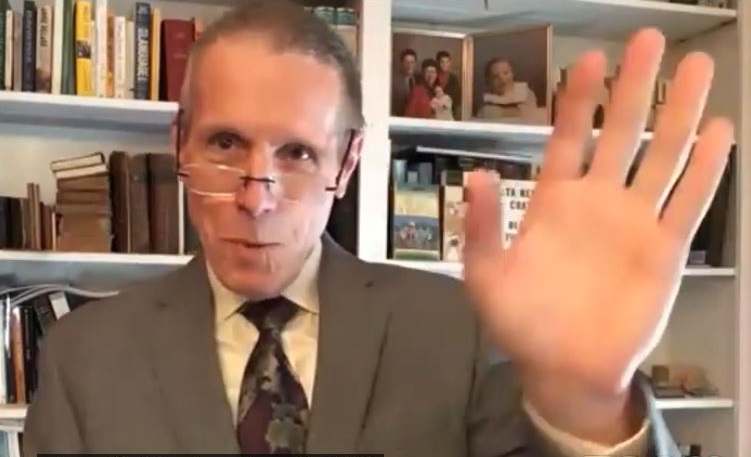 Happenings April 6, 2022 – From AZ
"Well, my work here is done!" That's what I said at worship on April 3, when the search committee announced your candidate for settled ministry. Actually not quite yet. But things are different now, and they should be. That's why the term 'settled' is important.
The term comes from colonial times that somehow endured. It meant and still means a clergy person who settles in a community for some time. There is no end date. While most clergy will serve more than one congregation, there are still those who spend their entire career in one church. I succeeded one in Brooklyn, and he succeeded another. To be settled is to commit to a community, not just a job.
By comparison I have been an unsettled minister. My commitment is to help you get to your next settled minister. Once that is done, I am done. But in another sense we were both unsettled. Both of us were in a new place back in the summer of 2020. In my case, I had retired from settled ministry and looked for interim work as a financial stopgap for a while. In your case, barely after retiring a long time spiritual leader in your Minister of Music, Covid arrived and all but closed you down. Just weeks later your Minister and Administrator announced their departure, and within days of each other.
To say we were both struggling to figure ourselves out would be an understatement. Now, almost two years later, we are both more settled. You are on the verge of a new chapter with a new spiritual leader as well as plans to renovate your sanctuary and become a multiplatform congregation from here on out. I have decided that it really is time to say goodbye to full-time ministry. Barring something quite unexpected personally or professionally, you will be my last congregation.
And that fills me with pleasure, for you have saved me as much as I saved you. These last two years have been filled with your appreciation, kindness, support, and dare I say love. If unsettled, it has been nonetheless valuable and worthwhile. My gratitude is immense.
This sounds like a farewell speech. Let's say I wanted to say this now because my path now begins to veer away from you. Oh, I will continue to preach and pastor through June but my preaching and pastoring will be primarily to prepare you to welcome your new 'settled' minister.
Think of it this way. It's like a parent who holds on and runs alongside a child as they learn to ride a bike, this is when I begin to let go and let you go on ahead. And if you are excited about your new bike, I am bursting with pride that you have one and cannot wait to see how far you go together. -FW
Click here to open Reverend Wooden's Weekly Moment video on FaceBook