Designated Charity – Paz de Cristo
VUU's current focus charity is Paz de Cristo. Located at 424 W. Broadway Road in Mesa, Paz serves the homeless, and other individuals and families in need.
VUU donates a specified number of "first Sunday" collection plates to Paz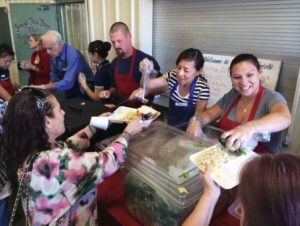 From 4 to 7 PM on the second Friday of each month, VUU provides direct service by preparing and serving the evening meal:
 – In an industrial kitchen, we do all tasks to prepare the main dish, sides, salads, drinks and peanut butter sandwiches. Not good in the kitchen? We'll show you how to feed an army!

 – At dinner time, we serve food, beverages, and carry plates for guests who are disabled or have children in tow.

 – During and after dinner, we wash dishes, clean the dining room and kitchen. These tasks are perfect for those who don't like to be on the front line!

 – We need 20 volunteers for each event. Check the list below for availability then sign up. We'd love to serve with you!
Contact pazdecristo@vuu.org with questions