Desert Notes April 20, 2023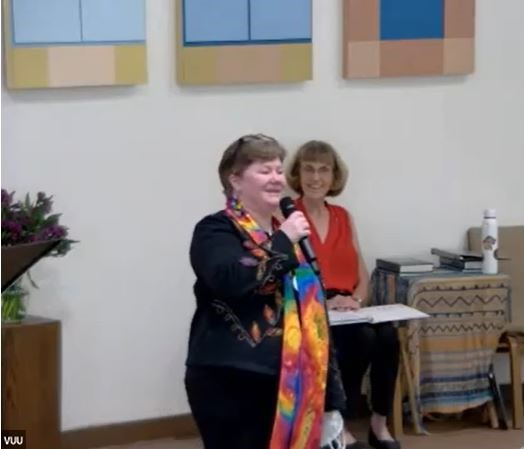 Being a minister means engaging in a wide range of community activities and events, internally and externally. It's been an incredibly busy time, which is normal for spring!
It was a great joy last week to officiate David and Jodi's commitment ceremony. I loved meeting folks that hadn't been back to VUU since COVID, in some cases, and seeing our community support an important event for two people who met right here at VUU. This is one of the most beautiful ways we can care for each other and create shared memories.
Also this last couple of weeks, I have met with several coming of age class participants and learned more about the development of their own beliefs, or credos.  I also got to sit in last weekend with the High School Faith Formation class and met more of our VUU youth led by Dan Sapakie.  (I chose that class because my husband was volunteering in the 3-5 classroom and Sol was in the middle school classroom).    
Out and about in the community!
This week, I also went on a recent tour with 11 other VUUers of the IRC (International Rescue Committee) Welcome Center where many faith communities, non-profits and individuals are helping support recent arrivals in our communities from many other countries. We learned a lot about their resources and a group of us have begun to build an immigration Task Force/Team to engage in this work as well.
As part of Ramadan, my friend Rabbi Debbie Stiel from Temple Solel invited me to an interfaith Iftar hosted by the Crosier Fathers and Brothers. I had a chance to meet folks from many different faith communities, eat an amazing dinner, and take a tour of the beautiful buildings that house the Crosier community.
I also managed to slip into the council chambers of the City of Chandler and offer an opening prayer for their meeting. I have signed up to do this occasionally, which is important to me. I hope that when I show up to talk about the work of VIP or other community issues I will be recognized as someone who cares about the wider community and has a stake in its future, even when I might disagree with leaders promoting particular policies.
Tech Time: During the week leading up to Easter, Music Ministries Director Katie and I spent many extra hours with her cousin Todd, who is a sound engineer, and the many different music groups that perform in our sanctuary.  Because our new system is completely digital and requires us to output sound to multiple places (in the room, in zoom and in YouTube) Todd helped us create sound mixes that are pre-set and saved on our new board.  We also have complex video needs–we pull video from Zoom into the room and from the room into zoom, as well as sharing slide content with folks online and in the room.  We recently purchased and had installed a new switcher that is meant to manage these different options on 3 screens.  All of these, of course, are run through laptops and software.  There are many pieces of this set up that require learning on our end and also that can go awry–if any piece stops communicating with the others, it can impact your online experience.  We are considering moving to a YouTube only format to see if this increases the quality of the online experience and produces better video for folks who are looking for digital content before visiting our building.  We could still open a zoom room after service for folks to connect in.  Let me know your thoughts, especially if you attend online.  No changes are being made yet!
Music Notes: As some of you know, I occasionally attend choir rehearsals, sometimes lending an extra hand with organizational tasks.  I have also attended bell choir rehearsals.  I do this for several reasons.  First, I am so excited to be working with a music director, volunteer and paid accompanists, and multiple music teams.  During COVID, I got so tired of pre-recorded music!  And when I worked in smaller congregations, I didn't have the diversity of talent and the number of people willing to participate in bringing different forms of live music to worship.  This is so important to me.  Second, Music Ministries Director Katie Seiferth and I spend a lot of time considering how music ties into the themes of our various worship services, the messages I want to share, and also the different ways we can reach different audiences.  I  like to hear how those selections are going to sound and consider how my words will be woven together with them. We brainstorm a lot of ideas together.  It's very important to me that we offer a range of music experiences–from congregational singing, to listening to the choir, an ensemble, the bell choir, or band, perform music.  For some of you, performing in these is a way to contribute your unique gifts to our community. (Thank you for this!)  Finally, I know that this congregation has experienced some challenges in shifting from one music director to another and the changes that came with COVID.  I am committed to supporting the many music programs and events this congregation is hungry for and I am also committed to bringing music that is engaging and inspiring to each of you as both audience and musicians.  If you would like to talk more with me about this, I'd love to hear from you!  We are already beginning to think about next year and your input is important to me. 
Rev. Sarah