Desert Notes March 16, 2023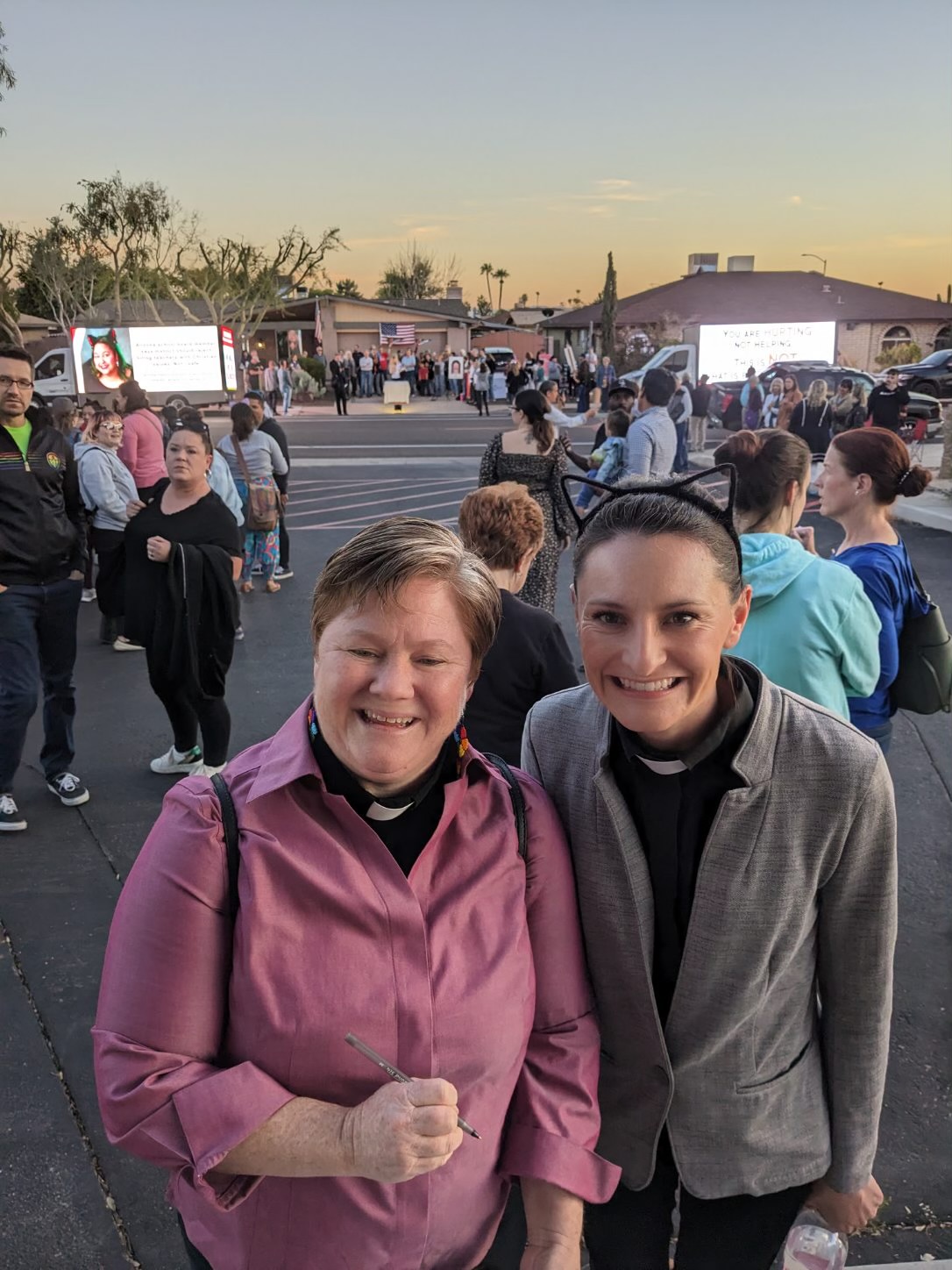 On Thursday Mar 8, 2023 I joined UUJAZ and other organizations supporting the decision of the Washington Elementary School District to cut ties with Arizona Christian University due to their anti-LGBTQ stance (and anti-feminist, IMHO). Since this story made national news, there were many, many people there. I wore my collar and prepared speaking notes, got on the list for public comment, and was chosen out of a hat to be one of 40 speakers. I was quoted in the Arizona Republic Saturday morning. (Accurately!) If you want to read all of what I said, here's a link. I drove 45 minutes to get to Glendale and spent about 3 hours there because I see our public institutions struggling in the midst of the culture wars we are waging. The violent threats and demeaning language aimed at the school board members–and particularly at Tamilia Valenzuela who identifies as a neurodivergent Afro-Latinx queer woman–make serving faithfully in these roles harder and harder to sustain. The school board is not anti-Christian, and not all Christians are anti-LGBTQ. The issue was and is the way in which a version of Christian nationalism (that is also anti-LGBTQ, anti-feminist, anti-Semitic, and white supremacist) is being pushed on our institutions in ways that deconstruct democracy. For all the children whose identities and families stand outside of the narrow circle that is drawn by these beliefs–because they are Jewish or Muslim or plain atheist, because they are LGBTQ or support women's rights, because they are Black or Latinx or come from another culture, we must remember that this country was not built on Christianity but a separation of church and state…for good reasons.
This last week was full of pastoral care of many kinds, but included a visit to Debbie Dinyes in her new long term care home. She would love to hear from VUU folks, but can only take one visitor at a time. Her new digs are comfortable and welcoming. We talked some about the 50 years of VUU connections she has had and her love for this community, and she shared some stories about living in Alaska as well! It's a joy to listen to and receive a lived history from one of our beloved members. I also got to talk to Bonnie Phillips, who recently lost her husband Dennis Drake. She is staying in Florida for now, but does join us online for services occasionally and will eventually make her way back here. Her home here is taken care of for now, and she is enjoying some rest and recovery. One thing we talked about was the complexity of grief when our loved one has been living with dementia and/or Alzheimer's for a length of time. Some of you have experienced the challenges of caring for someone in this situation and the reality is that grief is more like a wave that comes and goes as we say goodbye to someone even as they are physically alive. Community may be one of the most important ways we can sustain each other during difficult times like these. Please don't hesitate to reach out if you need support for any of life's challenges you are facing.
This week I am on Spring break with my family, enjoying Arizona's fine weather and taking some needed time off. Next week I am joining other UU clergy to engage in an annual spring retreat. Each of these nurtures parts of me that are important to sustainable ministry and community building. There's always work to be done, and it is always hard to put it down. I look forward to returning to the office on 3/27, although I will be catching up on email starting 3/24 and in the pulpit on 3/26. By the time I return, all of your ministry team will have had some needed time off–Marci and Todd each just took a week for vacations, and Katie and her family got a spring break together as well. With the three year anniversary of the shut down due to COVID, it's important to remember that we all need downtime to rest and recalibrate, to discern our path and to heal the wounds incurred by everyday living in a world where our worth is often measured by our productivity instead of our gifts.
Catch you on the flip side! –Rev. Sarah
Books I referenced in the Sunday 3/12 service that you might enjoy: Inciting Joy by Ross Gay (essays) and Rest Is Resistance: A Manifesto by Tricia Hersey.