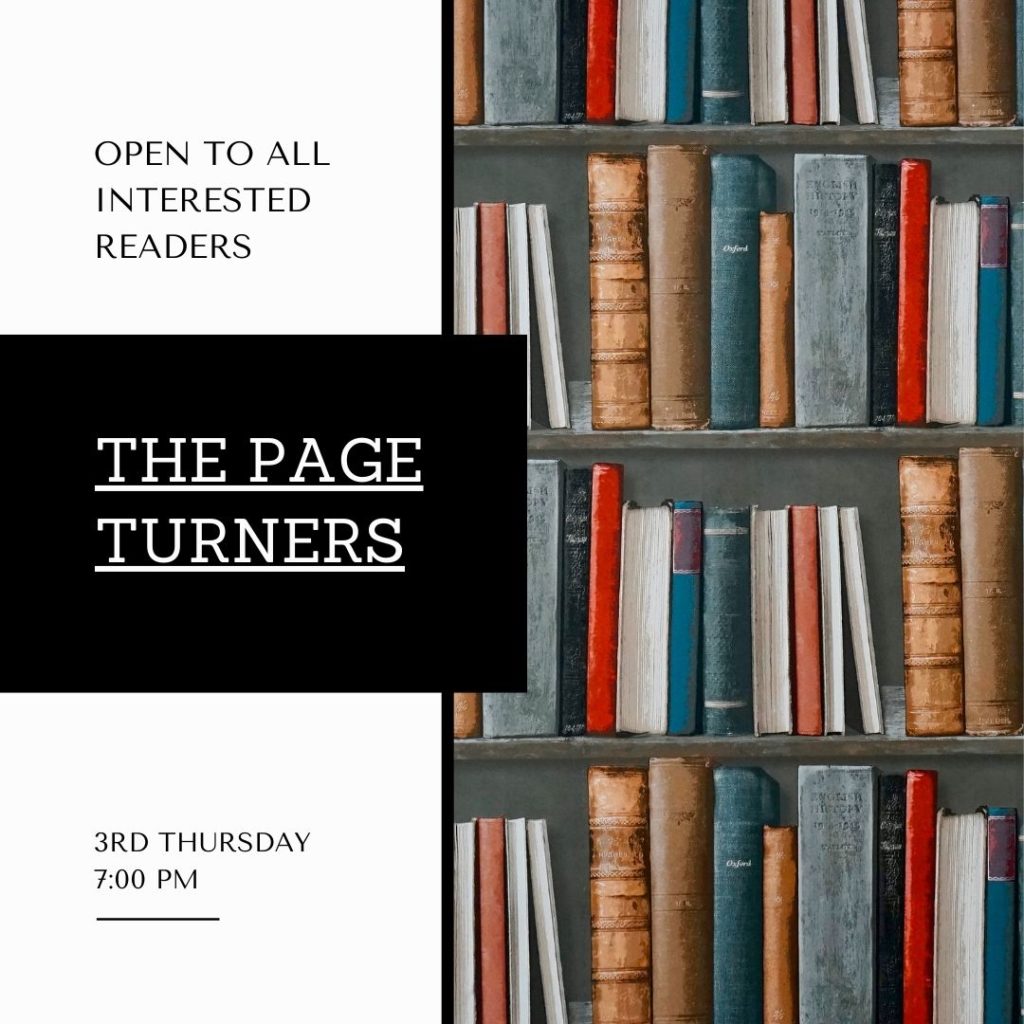 The Page Turners Book Club is open to all members, visitors, and friends of VUU who enjoy reading and discussing a variety of books. You are welcome to attend all meetings or just when the book is of interest to you. Books are selected by the group during the December meeting for the following year.
Currently we are meeting via Zoom on the third Thursday of the month at 7:00 PM. Please email agmonahan@gmail.com if you would like to be sent the Zoom link. In person meetings will resume when circumstances permit. In person meetings are held at a member's home in Tempe.
This book group also sponsors the Little Library on the VUU campus. Stop by to add books or take books to read.
Books discussed last year:
Under the Banner of Heaven by Jon Karkauer
Half Broke Horses by Jeanette Walls
The Giver of Stars by JoJo Moyes
Tell Me How It Ends – An Essay in Forty Questions by Valleria Luiselli
The Righteous Mind by Jonathan Haidt
Mudbound by Hillary Jordan
The Trouble with Islam Today: A Muslim's Call for Reform in Her Faith by Irshad Manji
Kindred by Octavia Butler
June 15, 2023

The Page Turners Book Club- Personal Zoom

Description:

Contact: Amy Monahan
Blue code: on personal Zoom acct

July 20, 2023

The Page Turners Book Club- Personal Zoom

Description:

Contact: Amy Monahan
Blue code: on personal Zoom acct

August 17, 2023

The Page Turners Book Club- Personal Zoom

Description:

Contact: Amy Monahan
Blue code: on personal Zoom acct

September 21, 2023

The Page Turners Book Club- Personal Zoom

Description:

Contact: Amy Monahan
Blue code: on personal Zoom acct

October 19, 2023

The Page Turners Book Club- Personal Zoom

Description:

Contact: Amy Monahan
Blue code: on personal Zoom acct

November 16, 2023

The Page Turners Book Club- Personal Zoom

Description:

Contact: Amy Monahan
Blue code: on personal Zoom acct